A "Secret Smorgling" is a little box with 160g of random fibres. It's sold by
Nunoco
and they are often in the shop.
These are such a great idea, the yarn is always "one of a kind" and a pleasure to knit with because all the variations. I specially like the little roving packs that have some sparkle in them, that shows up in the yarn and final project.
For the challenge on Ravelry we have to use up all the box.
I finished 2 more "boxes" for the Secret smorgling challenge:
The first box:
Made these "Smorgling Fiddlehead" mittens:
Smorgling Fiddlehead Mittens
This is the first time I'm making mittens and I really like them. I had to spin 3 different yarns for this project: a light and dark for the colorwork and a fine yarn for the lining.
The 2 thicker yarns are n-plied to keep the colors clear. I've devided the fibre in 2 parts to make two matching yarns (for the 2 mittens).
The lining is a 2 ply yarn, mostly browns (from the "Hen batt") and a little greens.
and with the rest of the yarn I made a sweet little "Bonnie Wee mouse":
With my second box I made this "Spring Dreams Shawl":
For this one I spun all the fibre of the box as a 2-ply yarn. The colors are all mixed, but there's a bit of a gradient because I tried to keep the greens and pinks at the same side.
The fibre:
The yarn: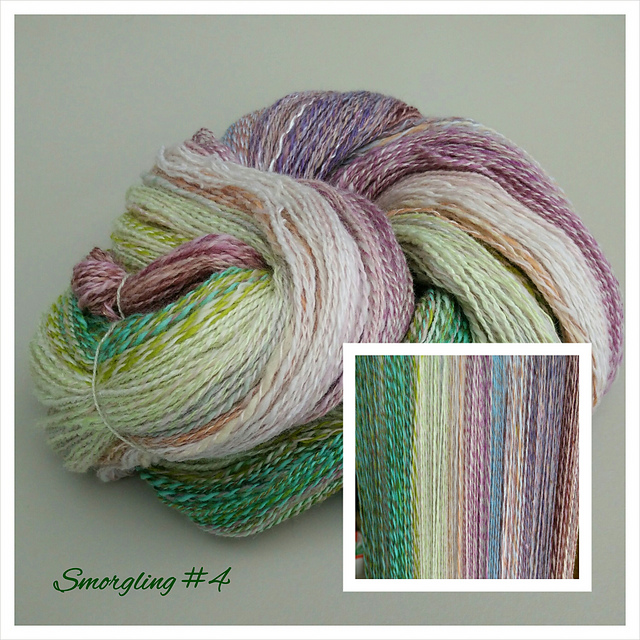 (dark weather in Belgium)
I love the texture of the garter stitch in combination with the lace parts in this pattern. I made it a little bigger by repeating one of the lace charts (to use op the yarn).
For the bind of I chose an I-cord edging.
Detail while blocking:
This has been a fun challenge, I hope there will be more in the future :).